700c, Aero, L, M, Road, Sprint, XL
FELT AR ADVANCED ULTEGRA DI2
$6,999.00
The all-new AR is the bike you need if speed inspires and delights you. Whether you are in the hunt for PRs, segments, or Olympic gold, the AR is built to get you to your finish line. Not just faster but better in every way, the new AR is designed with performance in mind. We know that going fast isn't only about cheating the wind—though the AR doesn't disappoint on that front. It's also about keeping yourself fresher and more composed than the competition. This is why we built the new AR from scratch, starting with a blank slate. We took the performance data from the existing AR, knowing just how fast it is and that it remains a reference point for racers and much of the cycling industry. But, on top of this, we elevated the importance of ride quality and handling to ensure that the total package is simply the fastest and best aero road bike we've ever designed. The AR is a whopping 9% faster than the previous AR depending on the conditions!
AR | ADVANCED | ULTEGRA DI2
The fastest road bike we've ever created. Aero efficiency combined with a smooth ride quality, bundled together with a finely curated selection of components.
Shimano Ultegra Di2 electronic drivetrain
Shimano Ultegra hydraulic disc brakes
Semi-integrated cockpit for performance and serviceability
Available in Aquafresh (blue) 58cm XL & In White 56cm L & 54cm M
*54cm Medium White has been "Demoed" (by staff) it is still "Like New" (less than 100 Miles on it, 0 cosmetic damage) Hints the discounted $6999 Price.*
-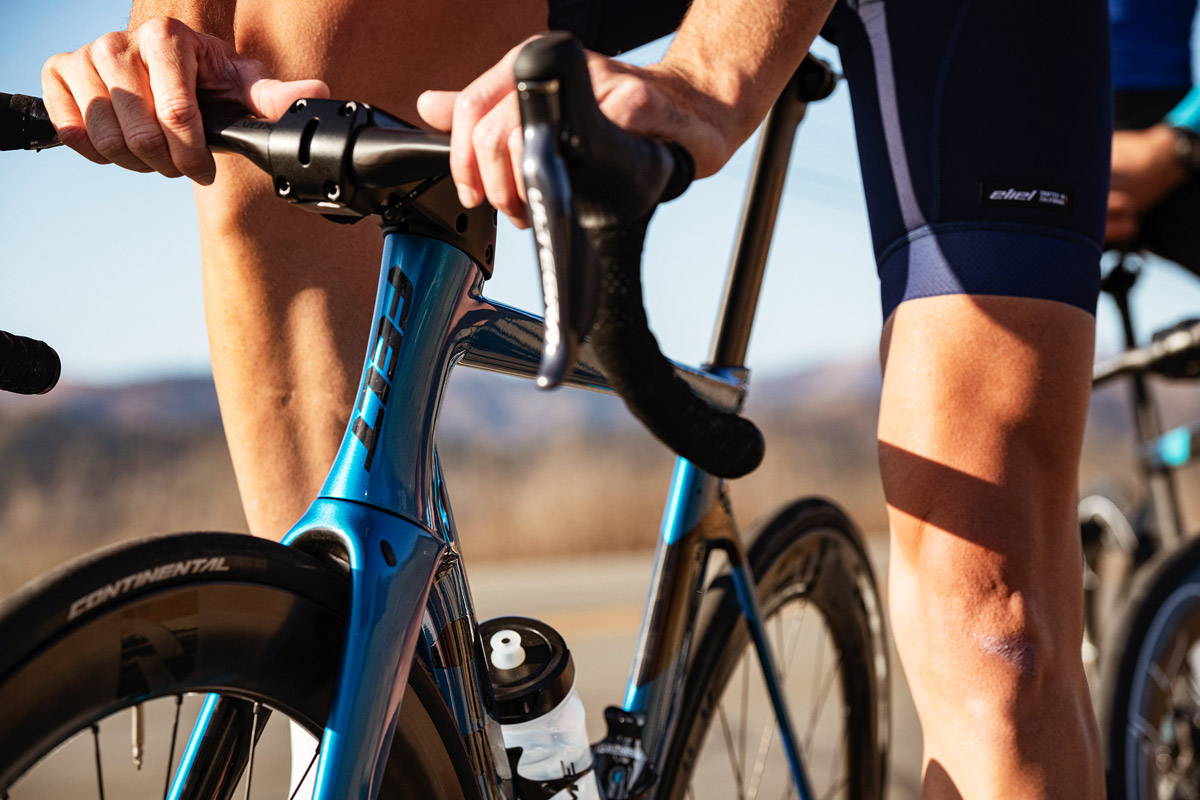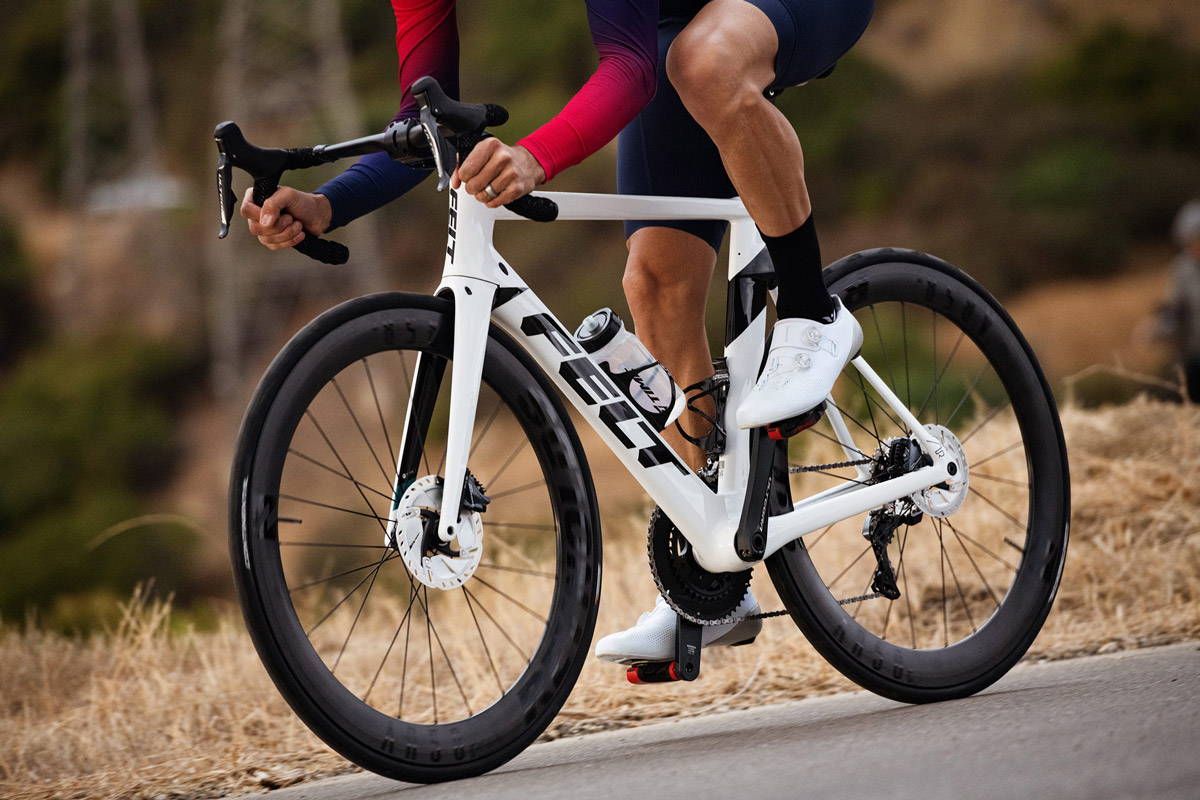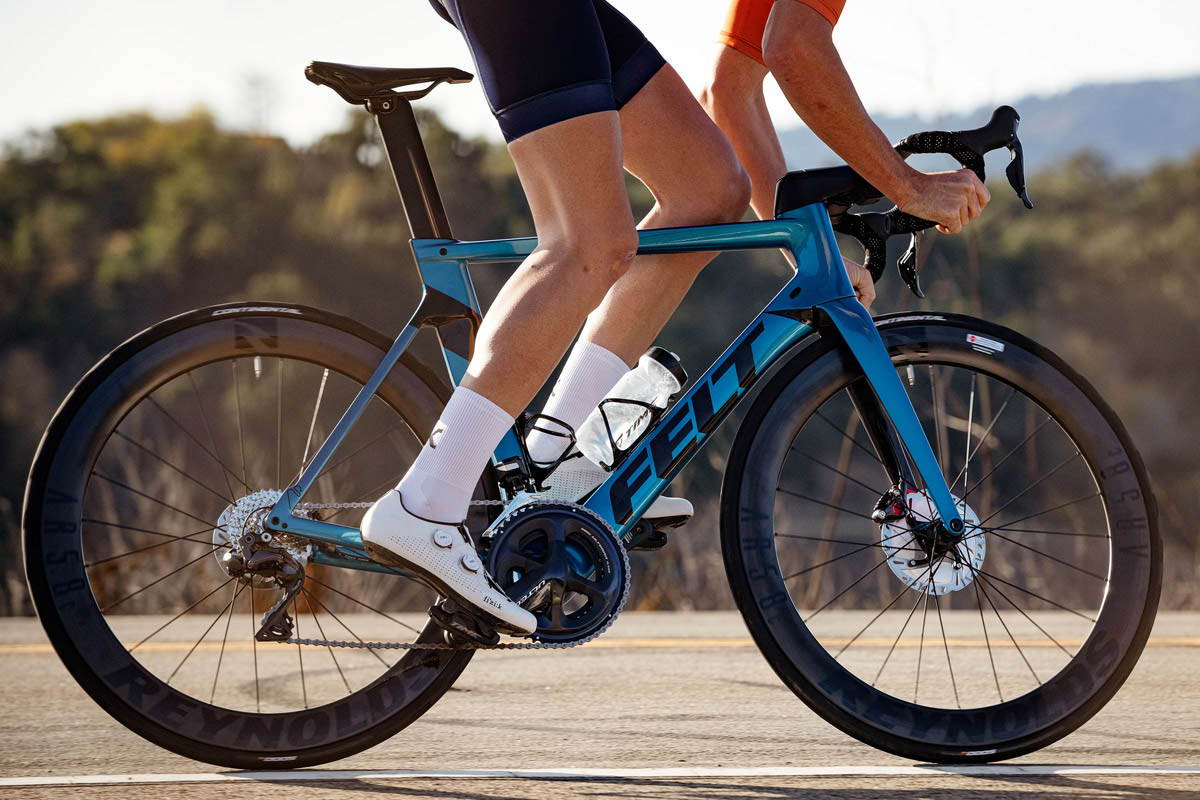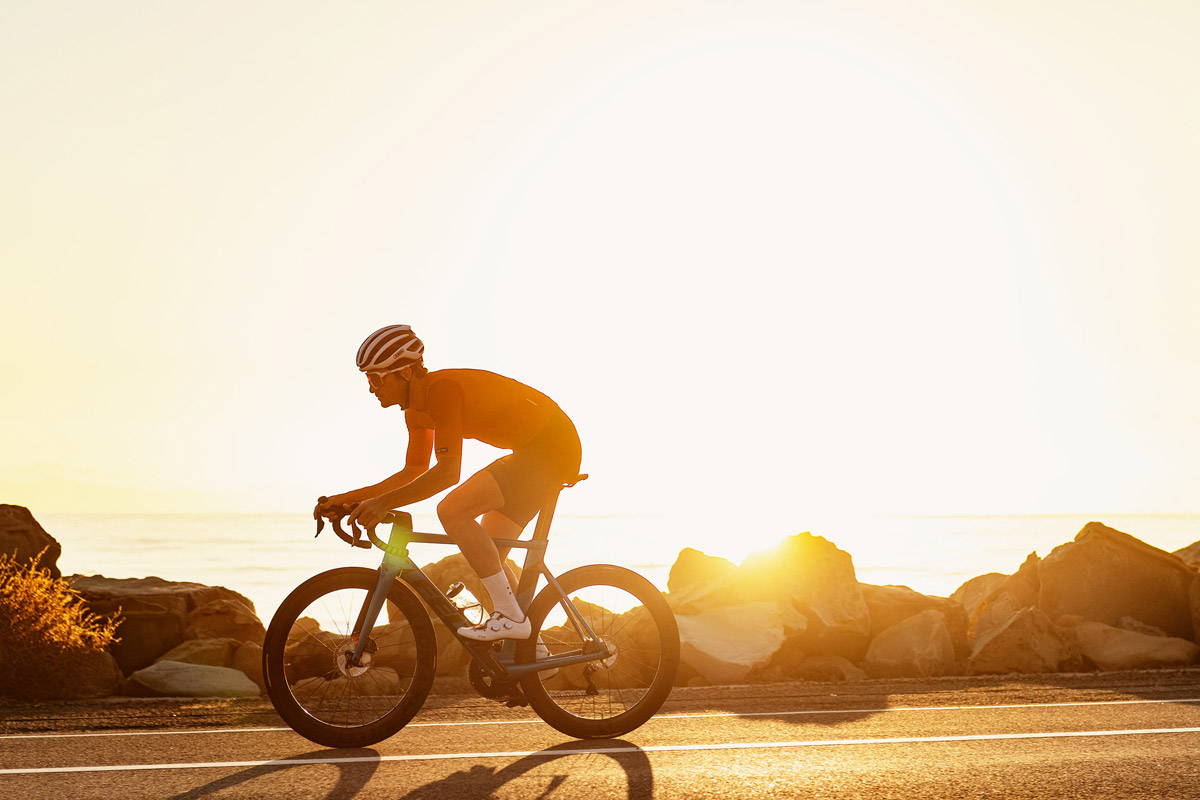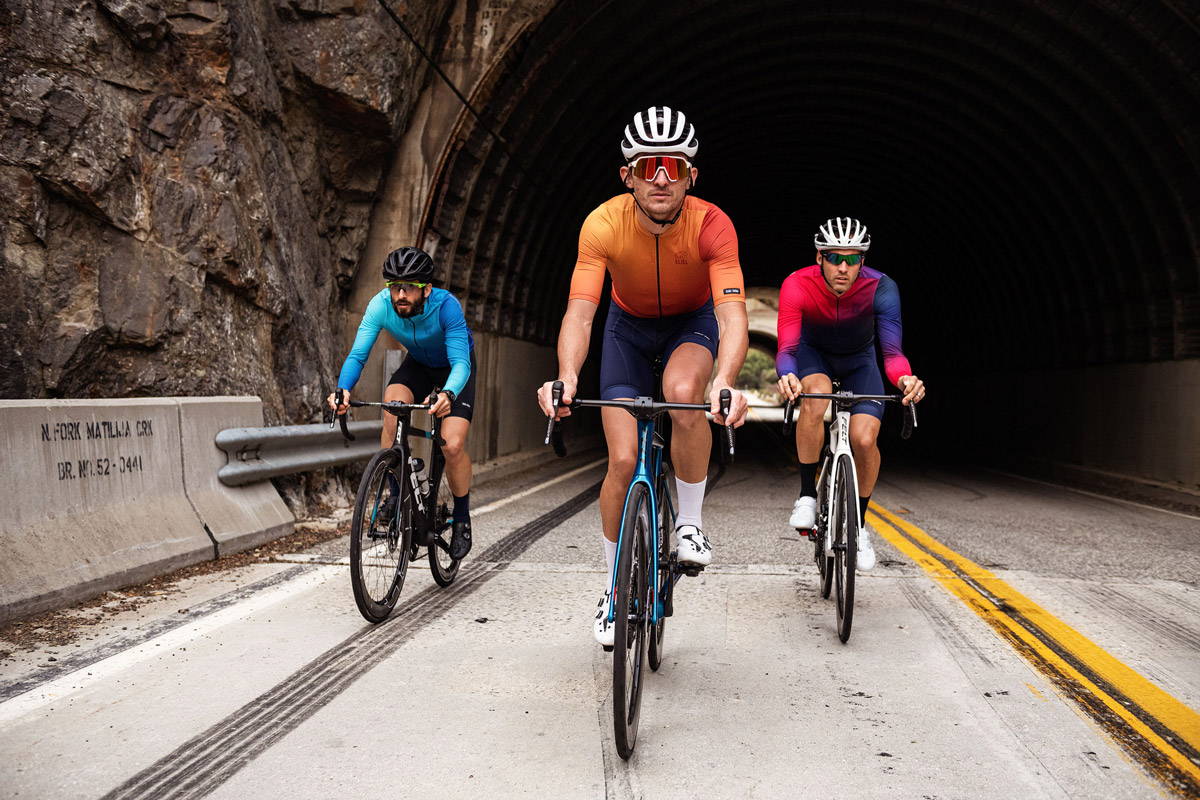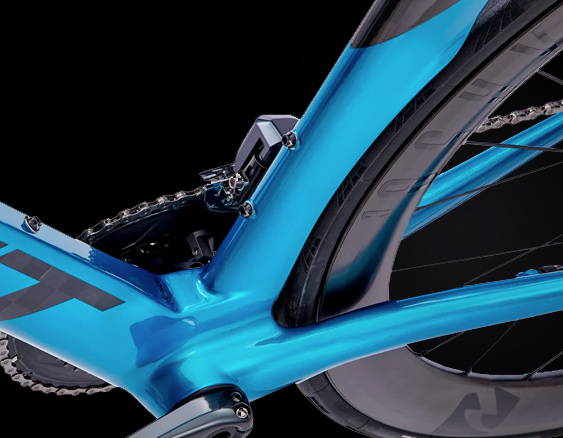 The aero paradigm has evolved. Gone are the elongated, deep-section, teardrop shapes and hard edges that were previously thought to be the most efficient at slicing through the wind. The latest industry research and theories have shifted aero bike development towards truncated, squared-off profiles (sometimes referred to as "Kammtail" designs) that have been optimized for real-world riding conditions. As a result, thoughtfully designed bikes will perform better during the actual riding and racing conditions that cyclists encounter most often. As the performance benefits of this new paradigm have taken hold, we've seen a validation of the speed gains ourselves. Our development of the new AR followed these theoretical models and industry improvements with more deliberate, hands-on efforts to advance our own platform.
Disc brakes are found on the entire Felt road line-up. Our all-around road bike model (FR series), our cyclocross race bike (FX series), and even our flagship triathlon model (IA series)—all of which have won World Championships in recent seasons—feature disc brakes. Through testing and experience, we know that disc brakes can win races on the biggest stage. So from the beginning of the AR project we knew that the next-generation bike would have disc brakes exclusively.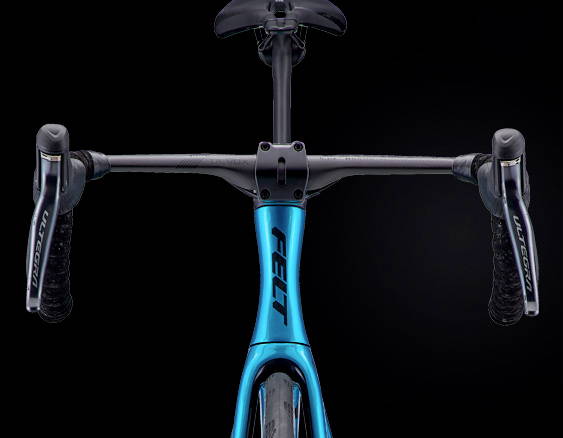 COCKPIT & STEERING/HANDLING
While fully hidden cable routing systems can appear aesthetically minimal when installed in a precise configuration, a truly closed-off system carries with it several drawbacks. Chief among these is a significantly more tedious and time-consuming maintenance process. It also makes the bike more difficult to easily break down for travel. And, due to inherent space constraints, many fully hidden systems can cause excessive wear and tear on cables and housing if not perfectly set up by an expert mechanic. Likewise, one-piece handlebar-and-stem configurations limit a rider's ability to dial-in their preferred body position, as well as fine-tune their favored steering interface. With the AR's tried-and-true system, riders have the option of using our semi-integrated stem (in lengths from 80mm to 140mm) or their favorite stem in whatever material and length they prefer, as well as their preferred handlebar in a myriad of materials, shapes, and sizes.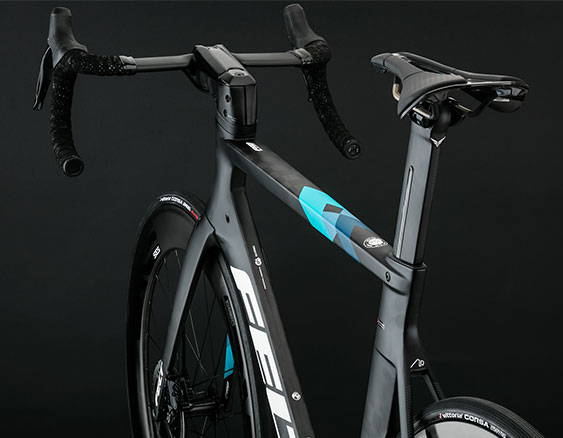 We pioneered a unique seatpost design for the previous-generation AR, and it offered such a high level of aerodynamic efficiency and a superb ride quality that it only made sense that we would revisit it for the new AR. This latest version still features the signature split design that not only allows for an aerodynamically optimized interface between the post and the seat tube junction, but the two halves of the post flex and shear independently of one another, which increases overall rider comfort. We also created a co-molded rubber insert that lives within the junction of the seatpost and seat tube, giving the entire interface added compliance. Finally, the slotted seatpost design allows for the use of a proprietary clamping mechanism that results in a lighter overall setup thanks to the use of thinner carbon walls, and a more finely tuned level of compliance for rider comfort. So what does all this mean? The new AR's seatpost provides 112% more flex than the seatpost of the previous- generation AR. Purists will say that an aero race bike shouldn't be "comfortable." But we disagree.
DETAILED TECHNICAL SPECIFICATIONS
| | | | |
| --- | --- | --- | --- |
| VERSION | AR | 4 | SERIES | AR (3.0) |
| MODEL | AR | Advanced | Ultegra Di2 | MARKET | Global |
| PRICE | $ 6,999 | FINISH | 1) Aquafresh 2) White |
| MODEL CODE | 1) FB-20B-ARX2-AT-FA 2) FB-20B-ARX2-WTN-FA | MODEL # M3 | 1) BBIAA03 2) BBIAA04 |
| SIZES | 6 | 48, 51, 54, 56, 58, 61cm | FRAME | Felt AeroRoad 3.0 | UHC Advanced + TeXtreme carbon fiber |
| FRAME TECHNOLOGIES | MMC / InsideOut | BOTTOM BRACKET TYPE | Press-Fit | BB386 |
| BRAKE TYPE, REAR | Disc, Flat Mount | 25mm thickness, Ø140mm minimum rotor | DERAILLEUR HANGER TYPE, FRONT | Brazed-On | integrated backup plate, non-replaceable, aluminum |
| DERAILLEUR HANGER TYPE, REAR | Standard Mount | TA 12×142 road, replaceable, aluminum | HEAD-TUBE TYPE | Felt AeroTaper | 1.125-1.25″ |
| PROTECTOR TYPE | Felt SteererStop integration for replaceable brake and shift protection / Felt CDRoad integration for chain drop protection / Felt ChainPlate for chain suck protection / Clear vinyl for chain slap protection | ROUTING TYPE | Convertible | semi-hidden for electronic or internal for mechanical |
| SEAT POST / CLAMP TYPE | Felt InternaLoc AEROroad 2.0 | integrated with titanium bolts and high-frequency vibration reducing insert | WHEEL TYPE | 700c |
| TIRE MAX (CLEARANCE) | 30mm (4mm) | FORK | Felt AeroRoad 3.0 | UHC Advanced + TeXtreme carbon fiber |
| HEADSET | IS (NO.44) | AXLE, FRONT | TA 12×100 |
| AXLE, REAR | TA 12×142 | FORK TECHNOLOGIES | Monocoque construction / Integrated crown race |
| BRAKE TYPE, FRONT | Disc, Flat Mount | Ø140mm minimum rotor | FORK OFFSET | 48cm: 52mm / 51, 54cm: 47mm / 56, 58, 61cm: 43mm |
| HEADSET SPECIFICATION | Top Cap: stem integrated / Top Cover: stem integrated / Top Cover (standard stem): Felt integrated nylon fiber / Bearings: FSA integrated sealed cartridge, MR121 upper, MR168 lower / Spacers: Felt integrated nylon fiber, aero (20mm, 10mm, 2x5mm) / Compression Device: FSA ACR / Compression Ring: FSA H2081A / Crown Race: fork integrated | AXLE, FRONT SPECIFICATION | Devox AxleTA 123.2 | 118mm + 5.2mm head, M12 x 1.5P x 13mm, Switch lever compatible |
| AXLE, REAR SPECIFICATION | Devox AxleTA 170-9 L | 161mm + 9mm head, M12 x P1.0 x 18mm for Syntace X-12, with SL02 Switch hollow lever | DRIVETRAIN | 2×11-speed |
| SHIFTERS | Shimano Ultegra Di2 R8070 | DERAILLEUR, FRONT | Shimano Ultegra R8050 Di2, braze-on |
| DERAILLEUR, REAR | Shimano Ultegra R8050 Di2, short cage | CRANK | Shimano Ultegra R8000, 52/36T |
| BOTTOM BRACKET | Token Ninja Lite, BB386 for Shimano (24mm) | CASSETTE | Shimano Ultegra R8000, 11-30T |
| CHAIN | Shimano Ultegra HG701 | CRANK LENGTH | 48cm: 165mm / 51cm: 170mm / 54, 56cm: 172.5mm / 58, 61cm: 175mm |
| BRAKE CALIPERS | Shimano Ultegra R8070, hydraulic disc, flat mount | BRAKE ROTORS | Shimano Ultegra RT800, Center Lock, 160/140mm |
| WHEELS | Reynolds AR58 DB Custom, Shimano | TIRES | Continental Grand Prix 5000, 700x25c |
| TIRE COMPATIBILITY | Tubeless Ready | RIMS | Carbon |
| HANDLEBAR | Devox DBar.C0 Aero | STEM | Felt Sprint | UHC Advanced carbon fiber |
| GRIPS / TAPE | Felt VelvetGel tape with 3M reflective base and Felt Bubble-Tech F-Wing bar end plugs | HANDLEBAR CLAMP DIAMETER | 31.8mm |
| HANDLEBAR DROP | 125mm | HANDLEBAR REACH | 80mm |
| HANDLEBAR WIDTH | 48, 51, 54cm: 40cm / 56, 58, 61cm: 42cm | STEM CLAMP DIAMETER | 31.8mm |
| STEM ANGLE | -6° | STEM LENGTH | 48, 51cm: 90mm / 54, 56cm: 100mm / 58cm: 110mm / 61cm: 120mm / Aftermarket: 130, 140mm |
| STEM PARTS & TECHNOLOGIES | Integrated / Integrated top cap / Integrated headset top cover / Integrated cable routing / Slotted faceplate for computer direct mount compatibility | SEATPOST | Felt AeroRoad IL 2.0 | UHC Advanced carbon fiber |
| SADDLE | Prologo Dimension 143 T4.0 | SEATPOST OFFSET | 0mm / -20mm |
| SEATPOST LENGTH | 350mm *can be cut to length | SEATPOST PARTS & TECHNOLOGIES | Integrated / Compliance Channels with aero covers / AeroRoad InternaLoc 2.0 seatpost clamping system with high-frequency vibration reducing insert / Patented VariMount (VM) saddle rail clamping system / Integrated battery holder |
| EXTRAS | Shimano SM-BCR2 battery charger / Shimano hose fitting kit (2x olives and connector inserts) / Reynolds tubeless valve stems (2x75mm) / Compliance Channel aero seatpost covers / Carbon assembly paste | WEIGHT | 18.17 lb, 8.26 kg |
| WEIGHT DISCLAIMER | The most accurate way to determine a product's weight is to have your local dealer weigh it for you. Because we understand that weight is an important metric, we strive to list it when possible. When listed, weight is based on a single sample in a specific size and with all items as shown in the photo. It is not an exact indication of what your bike or frame will weigh, as there are tolerances in many variables involved (size, finish, hardware, components, and accessories). Felt continues to be an industry leader in weight and performance. | SPECIFICATION DISCLAIMER | Specifications subject to change without notice. |
RIDER INSEAM
CM / INCHES Measured from crotch to floor.

48cm
51cm
54cm
56cm
58cm
61cm

152.4 -167.6 cm
5'0"-5'5"

167.6 -172.7 cm
5'5"-5'8"

172.7 -177.8 cm
5'8"-5'10"

177.8 -182.8 cm
5'10"-6'0"

182.8 -187.9 cm
6'0"-6'2"

75.1 – 76.2 cm
29.6''-30.0"

77.9 -82.0 cm
30.7"-32.3"

81.0 -85.0 cm
31.9"-33.5"

84.0 -87.1 cm
33.1"-34.3"
AR (3.0)
| | | | | | | |
| --- | --- | --- | --- | --- | --- | --- |
| | XS | 48cm | S | 51cm | M | 54cm | L | 56cm | XL | 58cm | XXL | 61cm |
| (A) HEAD TUBE ANGLE | 71 | 72.1 | 73 | 73.5 | 74 | 74 |
| (B) SEAT TUBE ANGLE | 74.3 | 74.4 | 73.5 | 73.5 | 73.5 | 73 |
| (C) TOP TUBE LENGTH (EFFECTIVE) | 509 | 529 | 543 | 560 | 580 | 605 |
| (D) HEAD TUBE LENGTH | 97 | 111 | 130 | 150 | 167 | 197.5 |
| (E) SEAT TUBE LENGTH (CENTER TO TOP) | 441 | 473 | 502.5 | 526 | 553 | 601 |
| (F) STAND OVER HEIGHT | 705 | 734 | 760 | 780 | 807 | 845 |
| (G) BOTTOM BRACKET DROP | 72 | 70 | 70 | 70 | 70 | 70 |
| (H) REAR CENTER | 408 | 408 | 410 | 410 | 410 | 412 |
| (I) FRONT CENTER | 577 | 579 | 580 | 588 | 603 | 622 |
| (J) WHEELBASE | 974 | 977 | 980 | 988 | 1003 | 1024 |
| (K) FORK LENGTH | 373.5 | 373.5 | 373.5 | 373.5 | 373.5 | 373.5 |
| (L) FORK OFFSET | 52 | 47 | 47 | 43 | 43 | 43 |
| (M) STACK | 501 | 518 | 539 | 561 | 579 | 608 |
| (N) REACH | 370 | 381 | 383 | 394 | 408 | 419 |
| | |
| --- | --- |
| Color | AQUAFRESH, white |
| Size | 48, 51, 54, 56, 58, 61 |
| Brands | Felt |
| Categories | aero, carbon, race, Road |
| Condition | New |